Submitted by

sfreidus

on Tue, 01/02/2018 - 13:08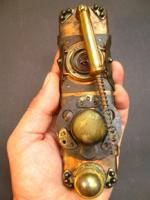 The Consumer Electronics Show is a playground for technophiles--will there be new technologies that governments can use?
It seems odd that consumer electronics companies would choose to showcase their wares after the biggest gift-giving holiday of the year, but here we are in early January and the Consumer Electronics Show has again pitched its tent in Vegas.
There's a lot of coverage already--including this contrarian take inveighing against the show--and one journalist has already found the theme of this year's gathering: the Year of the Interface.
My interest, of course, is what the show might hold for government employees and offices.  Last year, some early adopters saw tablet computers in their offices (e.g. Air Force, NASA, GSA, State Department).
This year, one of the things I'm interested in is metrics and analytics.  There has been no shortage of reporting on the Internet of Things, but as we put more and more things online (including, for example, our own bodies), how we will track those things and how we will visualize the patterns that emerge, will take on new importance.  And certainly, there will be things to help us track our things.
What do you hope to see coming out of CES? What are some gadgets that you hope make it out of the show and into your office? What are simply vaporware?
_____
Image: GizmoWatch
0 comments