Submitted by

rgordon

on Tue, 06/18/2019 - 21:57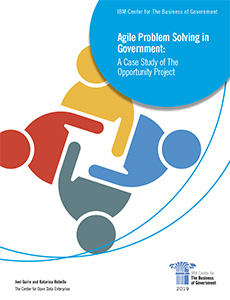 The Opportunity Project provides a model for how open data and industry-academic partnerships can help agencies develop agile solutions that address key mission issues.
Blog Co-Author:  Mark Bolter, Vice President, IBM Global Business Services
 
Across government, agencies face constant and often expanding levels of complexity in delivering on their mission objectives. Citizen expectations, changing technologies, a mass proliferation of data, and new business processes are among the key external forces that challenge agencies to serve constituents in new ways.  At the same time, growing demands for fast response to problem solving reduce the time that agencies have for developing strategies that enable them to achieve mission objectives. In recent years, agile development has advanced in both industry and government as a method of working in rapid increments that involve both developers and users.
The Opportunity Project (TOP), a program run out of the U.S. Census Bureau at the U.S. Department of Commerce, has for several years served as a catalyst in adapting agile techniques to solve complex agency mission problems, through a process that brings together agencies, industry, and citizens.  TOP works with Federal government agencies to identify significant challenges, and then facilitates partnerships among agency leaders, industry and non-profit innovators, and citizen users to collaborate as teams in developing innovative approaches to address those challenges. 
TOP represents a unique, cross-agency program that provides a model for how agencies can work with private sector partners to develop practical approaches to complex problems in an agile, iterative fashion.  TOP cohorts proceed through 12-14 week technology development cycles, which consist of 2-week sprints, to foster new solutions to mission problems; TOP participants have developed over 70 digital tools since launch in 2016, and the approach is now starting to expand across government.
In Agile Problem Solving in Government: A Case Study of The Opportunity Project, a new report from the IBM Center for The Business of Government, authors Joel Gurin and Katarina Rebello from the Center for Open Data Enterprise outline the key elements and critical success factors involved in TOP. Drawing insights from several TOP case studies, the authors provide lessons for other agencies, and indeed for governments at all levels, on how agile problem solving can enable public-private collaboration that helps address some of their most significant mission-focused issues.  As the authors note about TOP:
Government agencies benefit both from the work of tech teams and from the experience of participating in user-focused projects. Companies that contribute their work through tech teams have an opportunity to showcase their capabilities while learning about government data resources. And user advocates participating in TOP help ensure that their needs have priority in government data programs and resulting technologies.
This report summarizes recent TOP initiatives, discusses examples that show the impact and challenges of this approach, and makes recommendations for similar work across agencies in the future.  The Project's website highlights tools and summarizes previous sprints. The authors demonstrate that this approach, detailed further at https://opportunity.census.gov, is a case study for how open government data can lead to rapid development of applications that benefit citizens.