Submitted by

rgordon

on Thu, 08/04/2022 - 16:15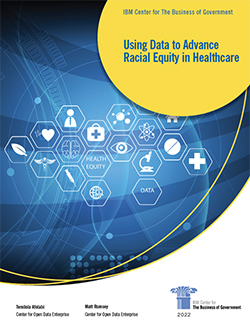 An expert roundtable identifies actionable recommendations to improve health outcomes for all Americans.
With Monique Outerbridge, Partner, US Federal Health, IBM
As the COVID-19 pandemic has evolved, multiple studies and reports have documented that Black Americans and other people of color are at higher risk of adverse health outcomes. Existing health disparities in the U.S. are heavily influenced by the conditions in which people are born, grow, live, work, and age, known as the social determinants of health (SDOH). Health outcomes can also be influenced by differential applications of emerging technology and differential effects of climate change.
Governments can use open data about the impact of the SDOH, technology, and climate change to manage health care programs and services in ways that drive more equitable outcomes for patients and their families. Moreover, better and more available data, combined with the use of emerging technologies, can help illuminate the problem and support new solutions to address health risk and access in a way that reduces the potential for bias.
In April 2022, the IBM Center for The Business of Government and the Center for Open Data Enterprise (CODE), with additional support from the health management company ZeOmega, collaborated to host a discussion of these and related issues via a Roundtable on Open Data for Racial Equity in Healthcare. The event included a public webinar followed by a highly engaged virtual Roundtable discussion with dozens of experts.
The Roundtable included a diverse range of perspectives. Plenary and breakout sessions brought together academic and research stakeholders, civil society representatives, government officials, health care experts, and other private and nonprofit leaders. The wide and deep interchange of views provided a rich base of information from which to draw conclusions, which addressed technical data issues as well as organizational and process change.  
The Roundtable also uncovered several themes that must be addressed to bring the power of data to bear on the existing inequities in American healthcare: trust and data collection, use, privacy, and security; equitable data governance, data sovereignty, and data ownership; access to data and technology; data quality and gaps; data standards, interoperability, and sharing; technical capacity and resources; and information and public health communication
This report draws on the insights shared in this session, as well as additional research led by CODE, to refine findings and develop actionable recommendations for government leaders.   These recommendations include:
Supplement automated data collection (via satellite or other technology) with community- based data collection to ensure that data reflects the lived experience of communities.
Develop multi-stakeholder, community-led governance models for artificial intelligence and machine learning (AI/ML).
Engage with organizations dedicated to improving quality and reducing bias in AI applications.
Support development of a National Secure Data Service to ensure inclusion of health data.
Promote approaches to data sovereignty that put control of data into the hands of those from whom it is collected.
Continue efforts to expand access to broadband to all Americans.
Inventory and update local, state, and federal regulations that may be restricting access to telehealth and other emerging health technologies.
Expand access to geocoded data at the sub-Census tract/ZIP code level.
Explore opportunities to expand access to racially/ethnically disaggregated data.
Invest in CBO data and technical capacity through grants and other financial support mechanisms.
This report builds on recent work of the Center that has addressed how governments can emerge stronger given continuing impacts from the pandemic, including Enabling a More Resilient and Shared Supply Chain Strategy for the Nation: Lessons Learned from Covid-19; Emerging Stronger and More Resilient: Responding to Covid-19 and Preparing for Future Shocks; Managing The Next Crisis: Twelve Principles For Dealing With Viral Uncertainty; and Covid-19 and Its Impact: Seven Essays on Reframing Government Management and Operations.
We hope that this report provides helpful perspectives for government leaders and stakeholders in designing effective and equitable strategies and programs that promote better health outcomes for all Americans.