Submitted by

rgordon

on Wed, 12/15/2021 - 13:00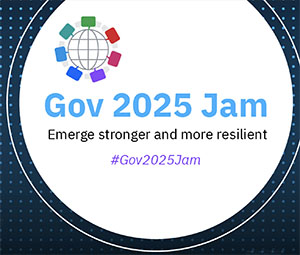 Wednesday, December 15, 2021
Recent insights from an online dialogue shine light on key public sector challenges and solutions.
Our Center recently collaborated with the IBM Institute for Business Value on work with thought leaders across government, industry, academic, and the nonprofit sectors to drive an online global conversation about the future of Government around the world, the "Gov2025 Jam."  This dialogue explored five key issues representing some of the most pressing challenges facing governments and societies today. The virtual event brought hundreds of experts from 39 countries together in thousands of conversations to share thoughts and ideas around how to achieve government and societal objectives.
Three common themes emerged from the dialogue that we will focus on through research and engagement in the future:  restoring trust in government services, forming public-private partnerships to meet workforce needs, and strengthening cybersecurity.  These themes cut across the five issue areas of the jam, listed below along with high-level takeaways and some key comments in each area:
Building a resilient workforce: To drive economic growth and opportunity, governments need to incentivize reskilling and upskilling, while also supporting work-life balance in a hybrid work environment.
Key comment:  "One of the things we're very challenged by is implementing a concept that would allow people to move freely between employment in the government and employment outside government ... such a system would benefit everyone by bringing current commercial practices into government and a better understanding of government operations and processes to the private/non-profit sectors"
2. Scaling to meet demand: Zero Trust IT security can help deliver a frictionless customer experience and improve the public's trust in its government.
Key comment:  "Rather than assume govt needs to go all-digital at the same levels as during the pandemic, this building in of hybrid services may be a more effective path to reach citizens where they are.  This does increase complexity via multi-channel delivery happening more simultaneously, but could decrease costs raised by traditional physical presence and decrease confusion by those who prefer not to engage only in online interaction."
3. Supporting digital sustainability: Leveraging AI, data and analytics and increasing use of sustainable materials and processes are key to achieving sustainability objectives.
Key comment:  "In the City of Copenhagen, technology is solving "The missing link" in the green energy transition. Andel, one of Denmark's leading utilities, is powered by a combination of IoT sensors, AI, blockchain and the cloud for energy ecosystem real-time, intelligent grid optimization. When the grid needs balancing due to fluctuating renewables or demand peaks, the platform's AI analyzes when connected consumer assets, such as HVAC systems, water pumps and data centers, can run at reduced capacity with little impact on their performance.  This flexible platform can be far more precise than traditional approaches to balancing the grid, where traders and aggregators often buy and sell energy by relying on intuition and rudimentary systems."
4. Protecting critical systems and information: The human factor is the weak link and root cause of cyber back doors. Cybersecurity education isn't optional. Also, Zero Trust architecture can serve as a framework for modernizing cybersecurity.
Key comment:  For local governments, staff training, having a plan, and testing the human and technology systems should become more widespread practices than they are … many more local governments consider cybersecurity a c-suite, continuity of operations, leadership issue.
5. Using data and technology ethically: Bioethics principles can apply to AI and data ethics. And use Institutional Review Board (IRB) type panels to review the ethical considerations of public AI use.
Key comment: Governments at all levels must work collaboratively to promote public trust in the development and deployment of AI tools; train an AI-ready workforce for both the public and the private sectors; and address the ethical concerns about AI's potential downsides in the areas of discrimination, civil liberties, and privacy.  Public agencies and administrators will be key in helping government become AI-ready by developing new policies, systems, and processes to ensure that these systems can be harnessed to inform decision-making, provide insight into the public's needs and perspectives, increase public communications, and improve service delivery."
Special thanks go to all of the Jam hosts (one of which was Cristina Caballé, Executive Director, IBM Global Public Sector), facilitators, participants, and several of the Center's partners in good government, including the American Council for Technology and Industry Advisory Council, Center for Organizational Excellence, International City/County Managers Association, MITRE, National Academy of Public Administration, Partnership for Public Service, and the Senior Executives Association.
In early 2022, our Center and the Institute for Business Value will publish a report with further insights on the findings from the session.